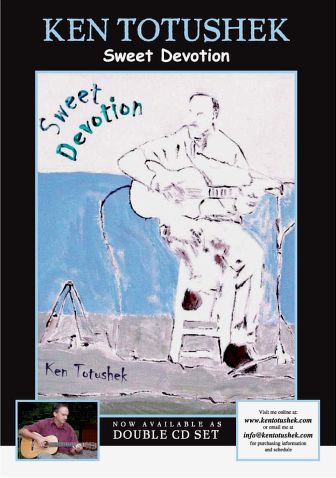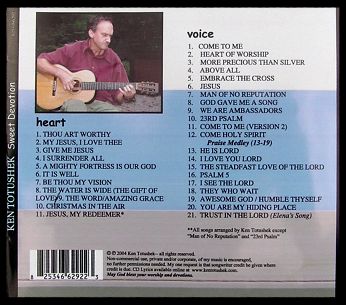 Sweet Devotion, By Ken Totushek (Now available!) -- Lyrics here) --December's Special offer here
I am pleased to announce the release of "Sweet Devotion." The ever-present focus of this CD is intended to be solely on the Creator and the precious work of Jesus ("Heart"--CD 1, and "Voice"-- CD 2). "Heart" contains 11 hymn arrangements and songs I have composed for solo fingerstyle, acoustic guitar. "Voice" contains 21 praise and worship songs--some well known in the Christian community and others not. All contain whatever musical variation/arrangement the Spirit would lead me to do while singing and playing many of these in my devotions in recent years, so hopefully they will provide listeners with a fresh feel of some well known and appreciated praise songs and hymns. There are some newer songs and some of my own as well--32 songs total.
My hope and prayer is that these instrumentals and songs of devotion might help strengthen the listener's understanding of the "Potter's" never-ending, never failing love of the "clay pot" (Jeremiah 18:4-6)--as they have mine.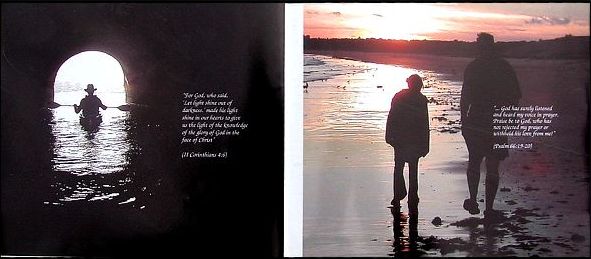 As my wife and I have done with my previous CD projects, we will forward all profits to charity. Jen and I have decided all profit of Sweet Devotion will go to the Providence Rescue Mission. We pray that God would bless this effort to help in some humble way with the this wonderful inner city ministry to the homeless and recovering people there. We also pray that God would use the music of "Sweet Devotion" to bless and draw the listener in to a closer walk with Him.
Blessings to all,
Ken
mp3 samples (highlighted titles below)
Disc 1-"heart"
3) Give Me Jesus
4) I Surrender All
8) The Gift Of Love
10) Christmas In The Air
Disc 2-"voice"
2) Heart of Worship
3) More Precious than Silver
4) Above All
9) We Are Ambassadors
10) 23rd Psalm
Praise medley(13-19)
14) I love You Lord
15) The Steadfast Love of The Lord
17) I See the Lord
19) Awesome God/Humble Thyself
-------------------------------------------
21) Trust In The Lord (Elena's Song)