Gerald Sheppard Koa Ave Maria Grand Auditorium Custom Guitar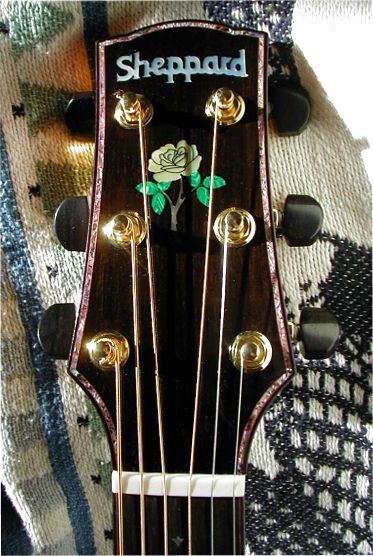 This is a very rare guitar, hand crafted by one of the finest luthiers today, Gerald Sheppard.
First, some introduction on Gerald Sheppard, from his website:

"Gerald has been repairing and refinishing and building guitars for twenty years. He started building exclusively in 1993. Owning a fine instrument from the time he was a child has both spoiled and trained Gerald's ear for fine tone. Now that he supplies instruments to other serious musicians, his philosophy is simple:

'What I build must first satisfy me, then the biggest test is that it must satisfy the musician. I must assume that the guitarist has an excellent ear for fine tone based upon years of experience; why else would he/she even be interested in a high quality instrument? My intention is to help the guitarist present a piece of music to the best of his/her ability and for it to sound the way it was intended to sound.'"

The tone, playability, feel, fit and finish, everything is totally outstanding on this guitar. Olson, Claxton, Ryan, McCollum, Bourgeois, Traugott, Beneteau, Dudenbostel, Blanchard, Manzer, Sobell, Carruth, Threet, McAlister, Eichelbaum, Wingert, Baranik, Gallagher, Alberico, Kinscherff, Laskin, Hoffman, Santa Cruz, Thompson, Collings, Froggy Bottom, Martin, etc. are all great guitars. However, this one is right there with the best of the best, and for quite a bit less $ than many makes mentioned above; because it's very slightly "used." Really, it's like new, and the actual new price for this guitar (if any of these particular koa wood sets are still available from Gerald) is $8100. The last I heard he had 1 set remaining.

This guitar was built in 2002 as Gerald's personal guitar, with very unique, highly flamed, Master Grade Koa b/s, and with an Engelmann spruce top. Here are more specifics of this Ave Maria model.

This 2002 Ave aria includes:
| | |
| --- | --- |
| | All Master Grade Wood Construction |
| | Master Grade koa back and sides |
| | Master Grade Engelmann spruce top |
| | Florentine Cut-away |
| | Abalone Pearl Backstripe |
| | Mammoth Fossil Ivory Saddle, fully compensated for every string |
| | Mammoth Fossil Ivory Nut |
| | Special Abalone Pearl Wing/Crown Design Position Markers |
| | Adirondack (Red) Spruce Bracing (Considered the best) |
| | Fully Scalloped Top Bracing |
| | Fine Quality Ebony Fingerboard, Bridge and Headstock Overlay |
| | .135" Wide Abalone Rosette (High Quality Paua, Red Heart of Paua rim) |
| | Ebony/pearl Eye Bridge Pins |
| | MOP Inlayed "Sheppard" logo |
| | Paua Pearl Fingerboard Side Dots (deep, colorful pearl) |
| | Deluxe Dyed Maple Purflings |
| | Walnut binding |
| | Two Way Double Action Truss Rod |
| | Gold Schaller Tuners w/ebony buttons |
| | High Gloss Finish w/transparent pickguard |
| | Cut-away inlay |
| | Paua Heart Abalone Top Perimeter Purfling |
| | Paua Heart Abalone Purfling along both sides of the end wedge. |
| | Bound Headstock and Fingerboard |
| | Rose on headstock |
| | Baggs I-beam pickup |
| | Mitered Side Purfling of Dyed Maple. |
| | High Quality "American Vintage" Hard-shell Case - a fine case with rolled leather handle. |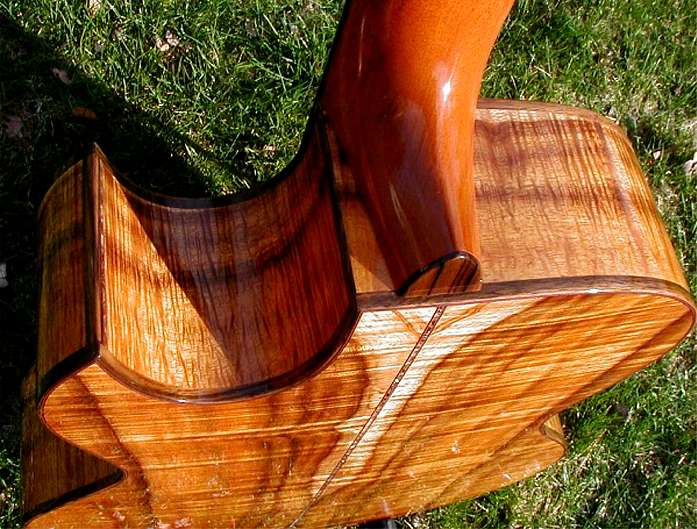 A more specific breakdown with current pricing if ordered today is right here .
The tone on this gutiar is just beautiful--not too loud, not to soft. For example, I can really bang on it for the percussive sound to come through without having to wake up the neighbors. In other words, it kinda sounds like you're playing it louder than you really are, which definitely has its applications in my book for recording and performance, as well as playing in the living room. I can also play as lightly as I want, and still hear those delicate decays and beautiful harmonics come through. There's a beautiful rich warmth in the tone that captures the heart.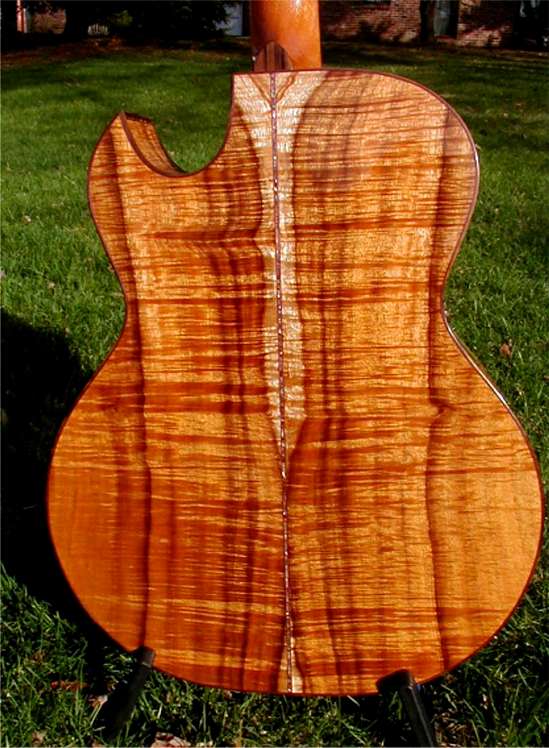 Oh, I forgot to mention, this has a Baggs under bridge pickup installed, and it sounds awesome plugged in as well--especially through my Baggs Para Acoustic DI box.
An incredibly stunning and unique slab of koa--best of all, it sounds completely alive--rich with bass and sparkle! This Sheppard Ave Maria made the cover on the 2003 Acoustic Music Resource catalog!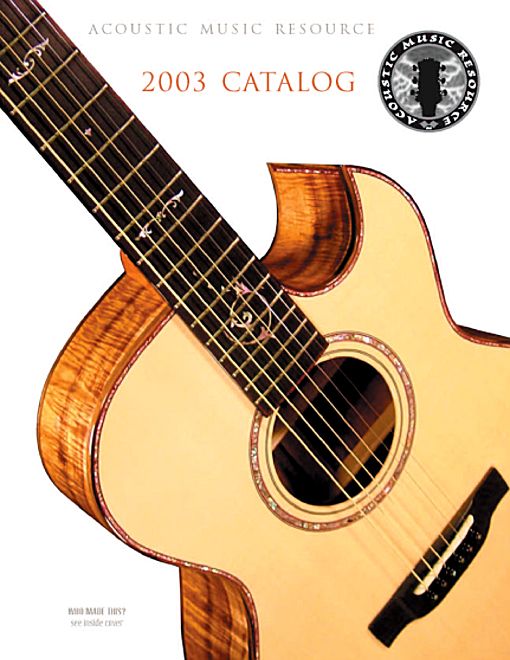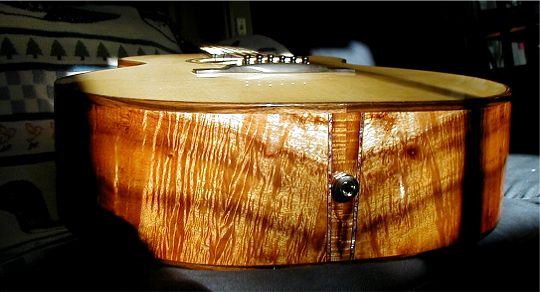 Thanks for lookin',



Follow these links for raw samples (no efx or EQ) of this guitar:
Another Sheppard Ave Maria Profile with Video and Audio
by Fingerpick Magazine April, 2004
(Click above for article)

Click here to see the various Videos: WMV MPG
Audio only: MP3


Click on logo for magazine
home page.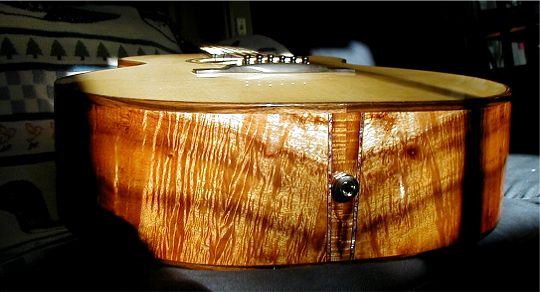 Thanks for lookin',

Ken T.
Graceworks Music